Building Area: 240,000 SF
Classroom Capacity: 1,250 Students
Core Capacity: 1,500
Location: Between Southern and Eastern
Project Start Date: April 2019
Bond Issuance Date: September 2020
Completion Date: May 2023
Operating Impact: $1,500,000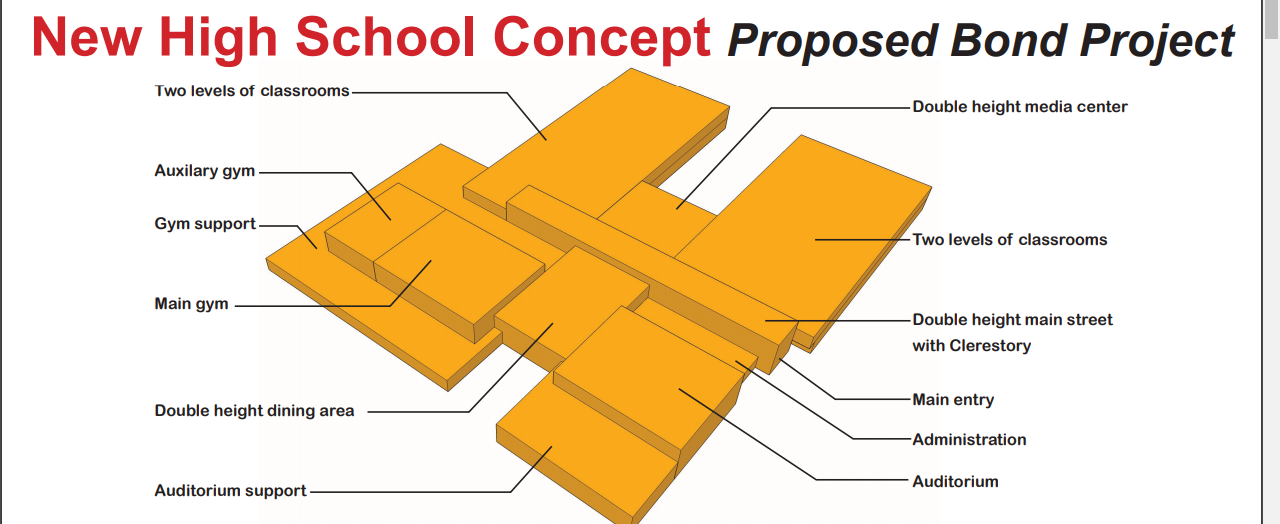 Proposed Bond Project Information
Cost Estimate: $67,012,616
Completed project will include:
• Land acquisition
• Utilities to site
• School building construction of approximately 240,000 SF
• Athletic fields and associated buildings for concessions, ticketing, restrooms
• Parking and drives
• Stormwater measures (retention ponds, etc.)
• Survey
• Soil borings
Project Costs Include:
• Professional Fees
• Survey
• Soil borings
• Construction testing & inspections
• Furniture, Furnishings & Equipment Allowance
• Technology Allowance
New High School Bond Project Updates
Click on the description to see information regarding bond project progress.
ABSS has conducted multiple stakeholder meetings to receive input on the design of the school. These include:
Meeting with Administrative staff to detail the programming needs (see programming below)
Interactive sessions with elected officials, Vision Group, education Council, ABSS district leaders
Community meeting at Williams High auditorium
High school students at CTEC campus
Currently, Moseley Architects are in the schematic design phase, and ABSS has contracts for Phase 1 study, including preliminary geotechnical evaluation and wetland delineation report for the property. ABSS is just waiting on execution of the offer to purchase contract. The contract for the CMR is in the final stages of negotiations with expectations of having it ready for Board of Education approval at the January meeting.
New High School Capital Projects
Capital Projects in Progress
No projects identified at this time
Capital Projects Completed
No projects identified at this time