Year Built: 1956
Building Area: 57,062 SF
Mobile Unit Square Footage: 3,000 SF
Acres: 26
Classroom Capacity: 575 
Number of Students: 592
Current Capacity: 102.96%
Project Start Date: March 2019
Bond Issuance Date: September 2020
Completion Date: April 2022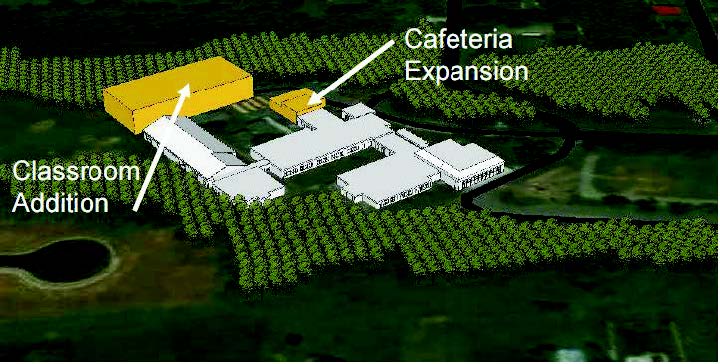 Proposed Bond Project Information
Cost Estimate: $8,482,880
Completed project will include:
• Addition of 16 classrooms
• Addition of new kitchen
• Renovate existing kitchen space for dining expansion
• Renovations/upgrades to existing buildings
Renovate/Upgrade Existing Buildings to include:
• School safety improvements (cameras, blinds, carded entry locks)
• Replace vinyl composite tile flooring and carpet; replace with tile
• Renovate multi-restroom facilities with new plumbing fixtures, tile, partitions and paint
• Remediate water infiltration where buildings intersect
• Add humidity controls to HVAC upgrades or installations
• Replace windows in cafeteria and media center
• Replace non-ADA compliant cabinetry, sinks, door hardware
• Provide ADA accessible main entrance
• Repair damaged/cracked sidewalks
• Roof replacement/repair where needed
• Replace gymnasium flooring
• Fix erosion issues on site
South Mebane Elementary School
Bond Project Updates
Click on the description to see information regarding bond project progress.
The ABSS architect/designer selection process began last November when ABSS posted the RFQ (Request for Quotes) and scheduled school visits for early December. By the January 7, 2019 deadline, ABSS received 24 architect/designers submissions for renovation projects and 13 submissions for the new high school. The selection process also included two rounds of interviews with an internal committee and a stakeholder committee.
At the June 18, 2019 ABSS Board of Education Meeting, staff recommended Morris-Berg Architects from Charlotte do the renovations and additions for South Mebane Elementary School, Graham High School, and Cummings High School.
Morris-Berg Architects will provide the following services: sealed architectural, structural, M.E.P. and FP plans, sealed civil and landscape design, owner assistance with bidding, owner/contractor assistance with permits, and project observation during construction. The estimated design costs are as follows: South Mebane Elementary School for $585,000, Graham High School for $555,750, and Cummings High School for $765,000.
The ABSS Board of Education approved all staff recommendations for architect/designers for school bond projects.
South Mebane Elementary School
Capital Projects
Capital Projects in Progress
No projects identified at this time
Capital Projects Completed
2016 – Current: Classroom Walls $60,000.00