Year Built: 1959
Building Area: 164,528 SF
Acres: 89.5 (includes Southern Middle)
Classroom Capacity: 1,100
Number of Students: 1,407
Current Capacity: 127.91%
Project Start Date: March 2019
Bond Issuance Date: September 2020
Completion Date: December 2022

Draft Conceptual Drawing for Southern High School
Proposed Bond Project Information
Cost Estimate: $20,661,931
Add 27,525 SF building space to provide:
• Demolish 2 buildings and construct 2-story classroom building to replace 16 classrooms and restrooms plus
6 classrooms
5 science labs
3 resource rooms
• Cafeteria/Dining Expansion
• Renovations/upgrades to existing buildings
Renovate/Upgrade Existing Buildings to include:
• School safety improvements (cameras, blinds, carded entry locks)
• Replace damaged floor tiles; patch cracked terrazzo flooring
• Exterior window replacement & caulk where needed
• Renovate multi-restroom facilities with new plumbing fixtures, tile, partitions and paint
• Roof replacements or repairs where needed
• Remove lockers to widen hallways for improved traffic flow
• Replace non-ADA compliant cabinet, sinks, door hardware
• Replace aging mechanical systems
• Add humidity controls to HVAC
• Replace campus walkway canopy system
Southern High School Bond Project Updates
Click on the description to see information regarding bond project progress.
Edited: ABSS met with Samet Corporation and Moseley Architects to discuss moving timelines in order to provide a time buffer to give ABSS adequate time to prepare for placement of students.
Moseley Architects presented the ABSS Board of Education with updated conceptual drawings and a new updated traffic pattern visual for Southern High School on March 4, 2020.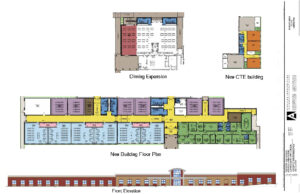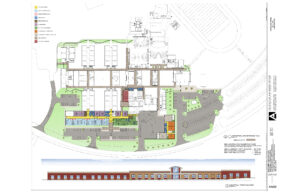 Southern Alamance High School Capital Projects
Capital Projects in Progress
No projects identified at this time
Capital Projects Completed
2016-Current: Tennis Courts $37,000.00
2016-Current: Parking Lot Striping $650.00
2016-Current: Door Replacement $5,200.00
2016-Current: Bathroom Partition Replacement $8,400.00
2016-Current: Roof Repairs-Band/Gym/Weight Room $60,000.00
2016-Current: Track Repair $140,000.00