Year Built: 1960
Building Area: 142,480 SF
Acres: 38.94
Classroom Capacity: 1,085
Number of Students: 1,192
Current Capacity: 109.86%
Project Start Date: October 2019
Bond Issuance Date: March 2021
Completion Date: March 2023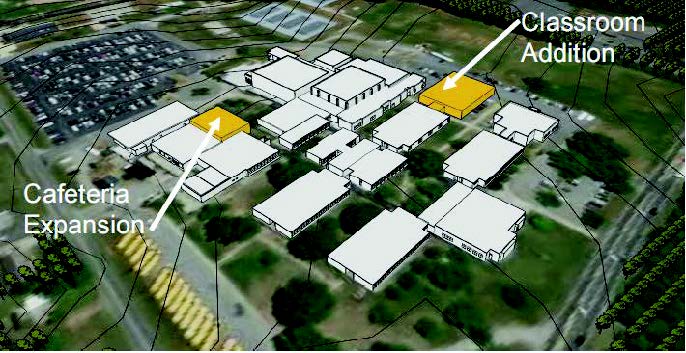 Proposed Bond Project Information
Cost Estimate: $12,400,611
Add 7,618 SF building space to provide:
• Cafeteria/Dining Expansion
• 4 classrooms
• 2 classrooms Exceptional Children program
• 1 Career/Technical Education lab
• 2 resource rooms
• Restrooms
• Renovations/upgrades to existing buildings
Renovate/Upgrade Existing Buildings to include:
• School safety improvements (cameras, blinds, carded entry locks)
• Flooring replacement remove/abate remaining asbestos tiles
• Exterior window replacement & caulk where needed
• Renovate multi-restroom facilities with new plumbing fixtures, tile, partitions and paint
• Roof replacement or repairs where needed
• Humidity controls/HVAC upgrades where needed
• Replace campus walkway canopy system
• Replace auditorium seating
• Replace non-ADA compliant cabinetry, sinks, door hardware
• Remove lockers to widen hallways for improved traffic flow
• Rework exterior sidewalks for better accessibility
Western High School Bond Project Updates
Click on the description to see information regarding bond project progress.
The ABSS architect/designer selection process began last November when ABSS posted the RFQ (Request for Quotes) and scheduled school visits for early December. By the January 7, 2019 deadline, ABSS received 24 architect/designers submissions for renovation projects and 13 submissions for the new high school. The selection process also included two rounds of interviews with an internal committee and a stakeholder committee.
At the June 18, 2019 ABSS Board of Education Meeting, staff recommended Pinnacle Architecture from Matthews, NC do the renovations and additions for Southern Alamance High School, Eastern Alamance High School, and Western Alamance High School.
Pinnacle Architecture will provide the following services: sealed architectural, structural, M.E.P. and FP plans, sealed civil and landscape design, owner assistance with bidding, owner/contractor assistance with permits, and project observation during construction. The estimated design costs are as follows: Southern Alamance High School for $1,440,000, Western Alamance High School for $840,000, and Eastern Alamance High School for $760,000.
The ABSS Board of Education approved all staff recommendations for architect/designers for school bond projects.
Western High School Capital Projects
Capital Projects in Progress
Summer 2019: Roof over Chorus Room $150,000
Capital Projects Completed
2016 – Current: Gym Floor Replacement $140,000.00
2016 – Current: Tennis Court Repair $145,000.00
2016 – Current: Parking Lot Striping $2,850.00
2016 – Current: Hotbox-Water Hookup $4,500.00
2016 – Current: Door Replacement $3,815.40
2016 – Current: Bathroom Partition Replacement $8,400.00
2016 – Current: Painting $161,142.00